Customising – Patched denim jeans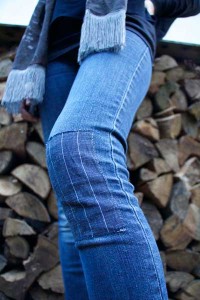 Holes are SO last year darling! It's all about patched trousers this season! And how perfect for those of us who spend a lot of time crawling round the floor cutting patterns (and thus going through the knees of our favorite trousers!) So, take a look at a couple of ways to make your own.
The first way, shown here on my most comfy skinny jeans, is a simple patch cut from another similar fabrics for a subtle look, or a contrast fabric for more impact! Best to chose fabric that is a similar weight to the trousers you are patching. I have used a pinstripe linen denim here but other old denim bits in different shades look great. Or try a ditsy print in a co-coordinating shade for a sweeter look.
Go BIG with the patch for a fashionable look. Pin in place and you can either sew with a zigzag on the sewing machine. This can be quite tricky along the length if they are narrow trousers. TOP TIP: try sliding over from the top end of the trousers where it is wider rather than the bottom end which is narrower.
OR, you can sew by hand which gives a great hand-finished look – try blanket stitch. Have a look at the youtube tutorial from…….below.
For a slightly more complicated but VERY chic patch job, have a look at my All Saints inspired leather patched cords.