Sew Different Retreat – How to Hack – 2021
Sew Different brings you their new sewing retreat set in a stylish, contemporary venue near Leeds. Spend 3 days exploring the basics of how to change a pattern to suit you, browsing fabrics, learning new techniques and creating a stylish piece of clothing that is completely unique. In between stitches, you can indulge in homemade cakes and chat with like-minded creative sewists. Choose the basis of your project from the Sew Different range of sewing patterns and with the help of our expert advice and tuition, create a dress, top or jacket that is totally you.
YOU CAN SEE FOOTAGE OF A PAST RETREAT HERE ON YOUTUBE
Please note that the venue has changed since the filming of this video and the format may vary.
The Course
Choose the basis of your project from the Sew Different range of multisize patterns. The course starts with a consultation with designers, Laura and Tree (Theresa), to decide on your project and discuss the changes you want to make. It might be a full bust adjustment, adding sleeves, adding a frill or full length gather, including piping between seams or even joining panels of different fabrics for a unique finished garment. We will be very happy to guide you towards a project that is right for your level of expertise. We take a trip out to the famous Fabworks Mill Shop where you will have time to browse their vast range and select the fabrics and trims for your project. There will be help and advice on-hand to aid you with your choices.
After this, it is back to our light and modern sewing studio where you will have the benefit of a small teaching group (max 8) so that there is plenty of opportunity for one-on-one help. We will help you to make alterations or draft extra pieces for your basic Sew Different pattern so that you have a paper pattern to work with over the next few days (and to take home to use again.) Our dedicated sewing teacher, Tree, has many years experience with beginners, as well as more able sewists. Help and advice are on hand every step of the way, from choosing your fabric and deciding on a size, to cutting your pattern and putting your garment together. The retreat is suitable for intermediate sewists who have perhaps already done some easy garment sewing projects. Confident beginners are also welcome. Every project is individual so we can tailor it to your own style and ability level. You can feel confident tackling new techniques knowing that technical help is always to hand.

CLICK HERE TO SEE THE FULL SEW DIFFERENT RANGE
The Venue
Our studio is located in a newly refurbished mill with lots of natural light. All equipment is provided, although you are welcome to bring your own sewing machine if you prefer. We are located on the ground floor and have disabled access. Address: Hub 26, Hunsworth Lane, Cleckheaton, West Yorkshire
The Area
Yorkshire is famous for its rolling green countryside and hosts some fantastic places to visit, including the Yorkshire Sculpture Park, Cannon Hall, Leeds city centre with its Victorian shopping arcades and the famous Titanic Spa. There are also great walking and cycling routes for anyone who is thinking of bringing along a non-sewing partner!
Accommodation
Accommodation is not included in the retreat. However there is a Premier Inn a 2 minute drive away from the venue as well as several hotels such as Gommersal Lodge (1 mile), Gommersal Park Hotel & Spa (1.5 miles) and Healds Hall (2 miles)
---
Itinerary • Wednesday – Friday course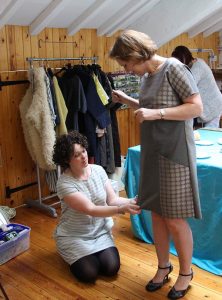 9am Meet at the studio on Wednesday for coffees, teas an introduction from Laura and Tree, when you can choose your project from the Sew Different range of patterns.
10.15am Our minibus arrives to take us to Fabworks Mill Shop, a fabulous Aladdin's Cave of every type of fabric you can imagine. On arrival we will be met by Fabworks' onsite expert who will give us a brief tour of the shop. You will have a couple of hours to browse and purchase all the fabric you want – no limit as long as you can carry it!
12.30pm Back to the sewing studio for a soup and sandwich lunch. The afternoon will be spent settling in, choosing your size, making any additional changes and cutting and preparing a paper pattern so you can be ready to start sewing in the morning. We take a break at 3pm for a slice of cake and a cuppa. The studio will be open for you until 5pm.
9am Arrive Thursday morning at the studio for a day of sewing with Tree who will be on hand for the duration of the course to help and advise you with the making of your garment. Whether you need help with the basics or fine tuning for a professional finish, you can work at your own pace. We serve lunch at 12.30pm and homemade cakes again at 3pm. You are free to stay and sew until 5pm.
9am The studio opens again on Friday morning. Tree will be available to demonstrate any techniques you would like to learn and help you with your finishing. For those who finish their first garment early, they can make a start on their Quick Makes pattern. Lunch will be served in the lounge on Friday and the afternoon is for you to finish off your sewing.
4pm The studio closes leaving plenty of time for those of you who have come from afar, to travel home.
---
WHAT'S INCLUDED ON THE COURSE:
Dedicated studio sewing with expert teaching – max 8 students
Sew Different paper pattern of your choice
Free Quick Makes paper pattern of your choice
Design, colour and styling advice from Laura and Tree
Technical advice and alterations made to a pattern to suit your style or shape.
A trip to Fabworks Mill shop
A RETREAT DISCOUNT voucher for Fabworks – 10% off fabric purchases under £100 or £15% off purchases over £100
Help and advice choosing your fabrics
A delicious homemade lunch each day
Teas, coffees and homemade cakes every day
A 30% discount on all other Sew Different patterns
---
Cost £299 – £100 deposit required to book your place and the full balance required 6 weeks before the retreat starts. Available dates:
11th – 13th

August

2021 – £299