I LOVE a sewing book, for myself and to buy as gifts. It's something of an addiction for me.
Here are a few of my current favourites:
Tilly's book, Love at First Stitch is GREAT for beginners who want to be talked through every step – from threading up your sewing machine to friendly tutorials. It's really clear and jargon free and has 5 great modern patterns included in the book to start with.           
Buy from      Amazon.co.uk  
 Amazon.com
This is a GORGEOUS book and would make a great present for a starter sewist. It has some simple sewing projects and tells you about the history of some of the fabrics designs. It is beautifully photographed and presented with a lovely wrapped fabric feel to the cover.           Buy from                    Amazon.co.uk
        Amazon.com
This book is great value for money if you look at the number of patterns that come with it. However, you probably need some experience in sewing as there has been some criticism about the instructions not being clear enough for beginners.  In response to feedback from the last Sewing Bee book, the patterns now range from sizes 8-18 in womenswear, and there is also some menswear, babywear and childrenswear included.      Buy from
Amazon.co.uk
         Amazon.com
This is a great practical guide for anyone who wants to set up a sewing business from home. There are interviews with four women who run craft businesses, tips for beginners and how to create marketing and promotional material. You'll find basic information for setting up, what you need in the way of equipment and ideas on where and how to sell. The stylish, contemporary patterns are easy to follow and have a suggested price point.          Buy from          Amazon.co.uk
        Amazon.com
This is a beautiful and clearly layed out book for beginners. It has 6Â  patterns and advice on how to make different variations on those garments. The designs are all for simple everyday clothing such as comfy trousers, stylish t-shirts and a funky zippered jacket. There are also ideas for adapting the patterns to suit your look. A great reference book!
Buy from        Amazon.co.uk
          Amazon.com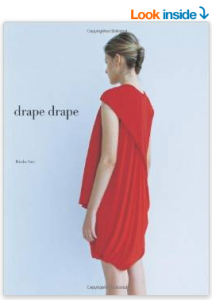 The Drape Drape series are my current favourite books. I can't get enough of these gorgeous drapey patterns. If you're looking for something a bit different, these are a complete change from your usual Burda / Simplicity shapes. Not for the fainthearted though – you definitely need some experience. Buy from Amazon.co.uk   Amazon.com
Includes 14 stylish contemporary designs for tops, dresses, skirts, vests and jackets, with step-by-step instructions and diagrams.  With two full-scale patterns at the back, this book provides exciting design ideas and highly practical techniques for the more experienced sewist.     Buy from        Amazon.co.uk           Amazon.com
Drape Drape 3 is the third in the series of the cult Japanese  books. It includes 15 stylish contemporary designs and there are two full-scale patterns at the back. Lots of new inspiring design ideas and practical tips for readers looking to continue exploring draping techniques. NOTE: patterns included don't go above a size US8 / UK12, although the designs are very loose and can be scaled if you know what you're doing.             Buy from                  Amazon.co.uk        Amazon.com
Lots of ideas here for beginner and intermediate sewists. The book comes with a really sweet pocket sewing kit. 30 different projects – bags, cushions, baby gifts, bathroom tidies and many more ideas — in a mix of vintage and modern Cath Kidston prints.
Buy from            Amazon.co.uk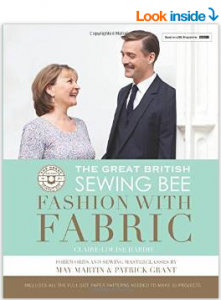 The newest book in the bestselling series of titles that tie in with BBC's Great British Sewing Bee. There are 30 different garments to make, (including the 1950s Walkaway Dress.)  It comes with full size pattern sheets giving all the pieces needed to make the garments. GREAT value for money!    Buy from Amazon.co.uk  Amazon.com