Flounce Dress – multisize sewing pattern on paper & online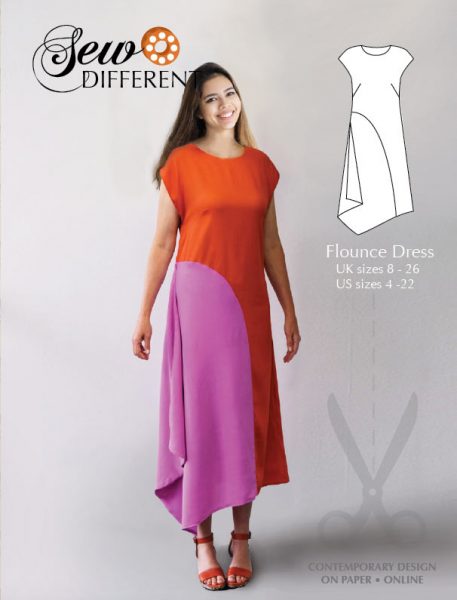 £17 • Paper Pattern
Our paper patterns are printed on high quality paper that can be used many times over. Please see here for our shipping costs and times
£9 • Downloadable PDF Pattern
Our digital files can be instantly downloaded as a PDF that can be printed on your home printer. You will find your link to the pattern on both the payment acceptance page and as an email. The link is valid for 48 hours.
Putting your PDF pattern together
---
The Flounce Dress is an asymmetric midi-length dress. It has capped sleeves and is gently fitted through the bust. The side flounce falls elegantly into folds and attaches to the main body of the dress with a curved seam-line, giving opportunity for it to be made in a contrasting fabric if desired. No zip required.
TOTAL FABRIC QUANTITY
150cm / 60" WIDE:
SIZES 8 -16 • 2.25m / 2.5yds
SIZES 18-26 • 3.25m / 3.75yds
112cm / 45"WIDE:
SIZES 8 -16 • 3.25m / 3.5yds
SIZES 18-26 • 3.75m / 4.25yds
USING 2 FABRICS AS SHOWN ON FRONT COVER
150cm / 60" WIDE:
SIZE 8-16: MAIN DRESS • 1.5m / 1.5yds
SIDE FLOUNCE • 1.75m / 2yds
SIZE 18-26: MAIN DRESS • 1.5m / 1.5yds
SIDE FLOUNCE • 1.75m / 2yds
112cm / 45"WIDE:
SIZE 8-16: MAIN DRESS • 1.5m / 1.5yds
SIDE FLOUNCE • 1.75m / 2yds
SIZE 18-26: MAIN DRESS • 2m / 2.25yds
SIDE FLOUNCE • 1.75m / 2yds