Asymmetric A-line Dress – Sewing Pattern – Design Your Own


• Colour Blocking • Pattern Mixing • Tonal Textures •

These are few of my favourite things! ( Tra la la…)  My latest  sewing pattern, the Asymmetric A-line Dress, is the PERFECT style for all three of these design options.
You can colour-block it in fabulous brights, OR you can work it up in similar tones of the same colour using different textures and weaves, OR you can be really brave and MIX & MATCH your patterns.
Try combining sheer fabrics and lace or crochet type materials into the occasional panel for a really pretty and contemporary look.

The dress shape is gently A-line with darts at the bust and little cap sleeves. The length comes to just above the knee (I'm 5ft 8.) There is an diagonal bodice and there are 2 panels at the front, one of which allows the diagonal pocket with trim. The back panel is just one full piece. (The dress is actually just a slightly adjusted and simpler version of the Essential Denim Dress.)
In my version shown here, I have used a fabric from the FREE SPIRIT range (Lily Pads 2 by Joel Dewbury). The blue is a lovely
pinstripe denim-look linen that I had left over from another project. The back of the dress, which is just a single panel, is the also the patterned fabric, so your back view is quite different from the front (scroll further down for a back view).
For those of you who haven't come across FREE SPIRIT, it's a contemporary, colourful and ultra stylish collection by a group of designers (who include Amy Butler and Zandra Rhodes.)  Shown here are just a few of their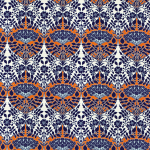 beautiful range. All these are 100% cotton and perfect for the Asymmetric A-line dress.
I know that pattern mixing can be a bit daunting, so, to make things a little easier, have a look at some of the combinations I have put together here. The options are endless but each one shows a different way of working tone, pattern and colour. All fabrics are from the FREE SPIRIT range. You can mix and match to your hearts content.
Mixing a great pattern with a co-ordinating or contrasting plain is a always effective. The middle version here show 2 different plain colours that tie in with the pattern. The lefthand verison uses simlar fabrics to those I used but with a flash of orange on the pocket which gives it a real ZING.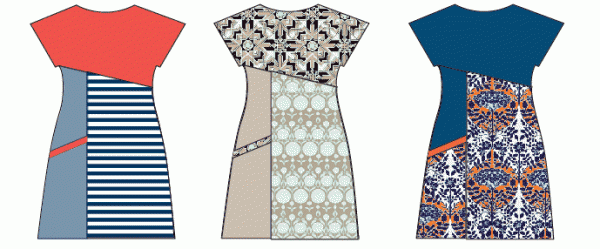 And here are some options for the more daring of you – mix 2 different patterns that use the same colour palette. This stops it all being too busy and is quite easy to do with a set collection of fabrics as designers tend to repeat colours through a range.
I love these soft blues and aquas – they are so summery. The leaf pattern above is really large scale and has a lot of impact – a feminine version of Hawiian I thought!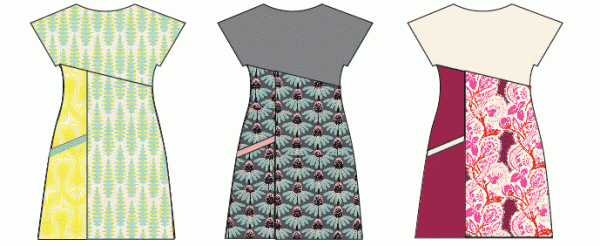 The mix and match works equally well in darker colours. I love the playful flash of pink in the centre dress.
Above all this pattern is FUN! I can't wait to try out a million different colour and pattern combinations. I will post them up for you to have a look at as they appear. Happy mixing!
The Asymmetric Aline Dress is no longer available as a free PDF download. Sorry for any disappointment, but there are lots of other free patterns on the patterns tab so please have a browse.
If anyone wants to upload a picture of their finished pieces to their own blog or site once they have made them, just send me a link and I will include it in my post so that other people can see your versions.
A really lovely Canadian version of the Asymmetric Aline dress here made by Carmen Routhier. It looks great in red and white! This is the first photo I have seen of anyone else's go at this dress. Fabulous!